The project introduces a network of widely dispersed shared dressing rooms across the city, catering to individuals without regular access to makeup supplies or cosmetics, those seeking diverse brands, and those in need of a refined makeup space. Accessible via a mobile app, these dressing rooms require pre-booked appointments for time and location. Equipped with premium cosmetic products, these spaces offer a platform for everyone to explore high-end product samples, aligning with their specific preferences and needs.
Extensive research into the makeup routines of our target audience, which includes both white-collar workers and students, unveiled a shared demand for convenient makeup solutions. This highlights the significance of addressing their specific needs.
The research reveals that the target audience faces four primary pain points as outlined below.
What's Sharing Economy
Sharing Economy involves using digital platforms to connect people who have spare resources or skills with those who need them, promoting efficient resource use and community collaboration.
Why Sharing Economy
Sharing Economy emerges from the need for efficient resource utilization, cost-effectiveness, and the growing preference for experiences over ownership in today's society. It fosters community, promotes sustainability, and capitalizes on technology to create a more accessible and interconnected world.

The shared dressing room mirrors feature touch screen technology. Users can effortlessly apply cosmetics, make payments, and capture photos directly on the mirror.

Prioritizing convenience and hygiene, cosmetics are stored in vending machines linked to individual makeup mirrors. This setup allows users to select, purchase, and acquire chosen products seamlessly.
The investigation and survey indicate a prevalent preference for high-end brands within the shared dressing room. Furthermore, individuals who typically avoid luxury cosmetics due to financial constraints can also access these products, widening their opportunities.
In response to the target audience's needs, a new research phase was initiated to pinpoint the ideal product placement. According to the result, the decision was made to strategically position the product in high-traffic locations, notably shopping malls and campuses.
The User Journeys were strategically devised to explore user requirements within the context of a shared dressing room, visually outlining their interactions and highlighting potential avenues for enhancement.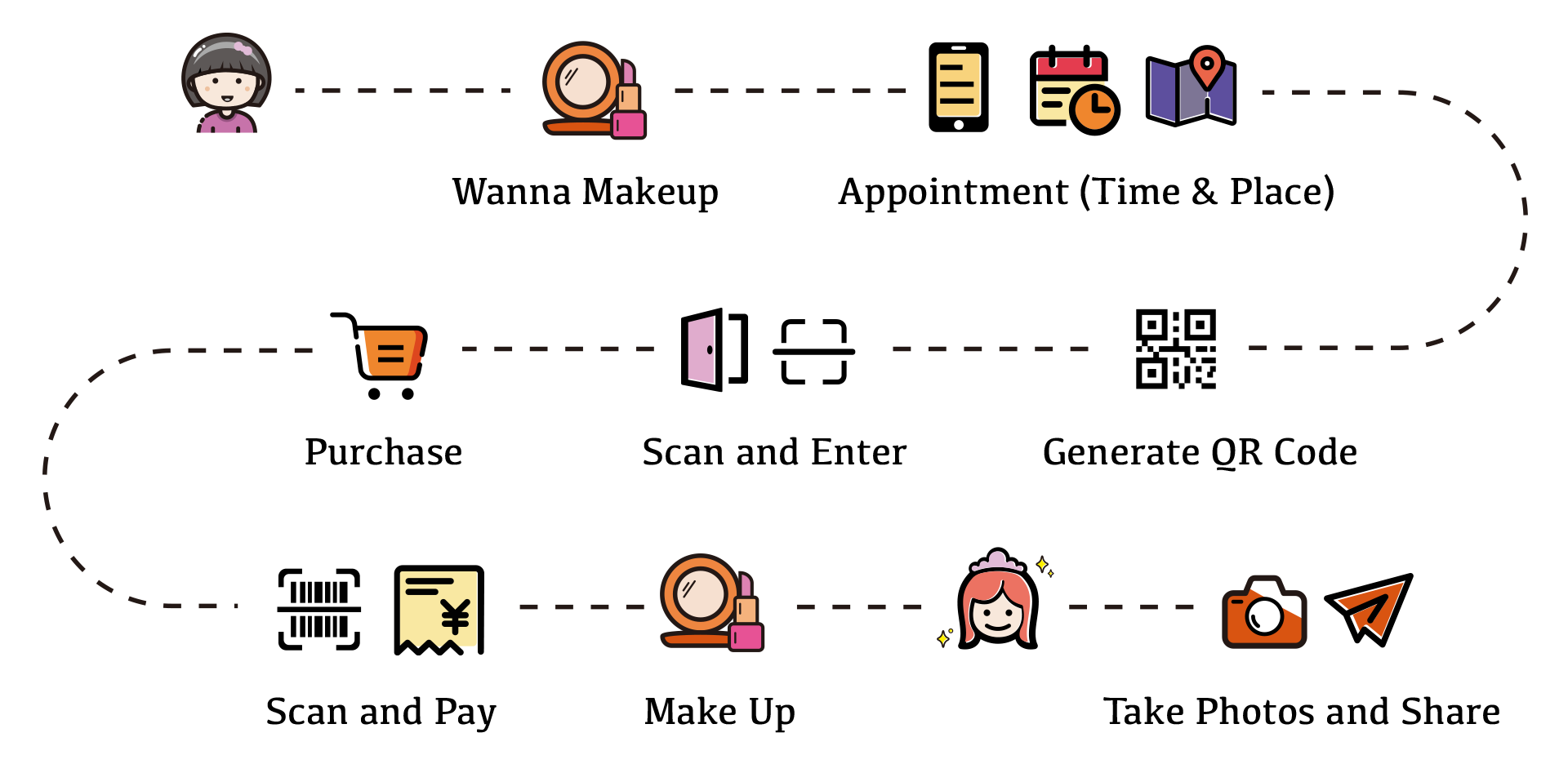 The implemented workflow strategy fosters seamless team collaboration and structured project advancement, aligning seamlessly with the shared dressing room project and synergistically contributing to the creation of an exceptional user experience.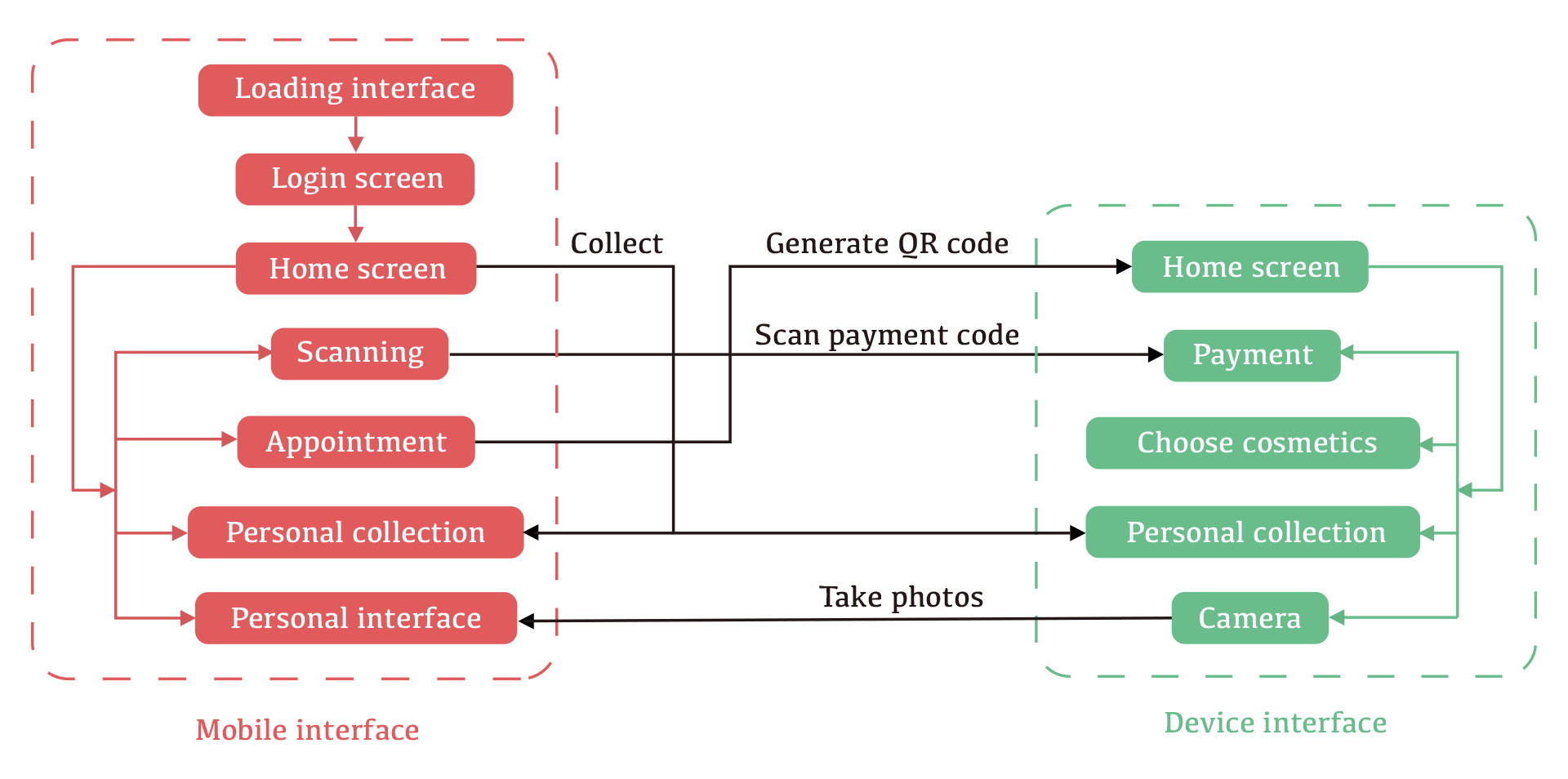 Developed low-fidelity wireframes and prototypes for the shared dressing room project, followed by rigorous user testing to gather valuable feedback and insights.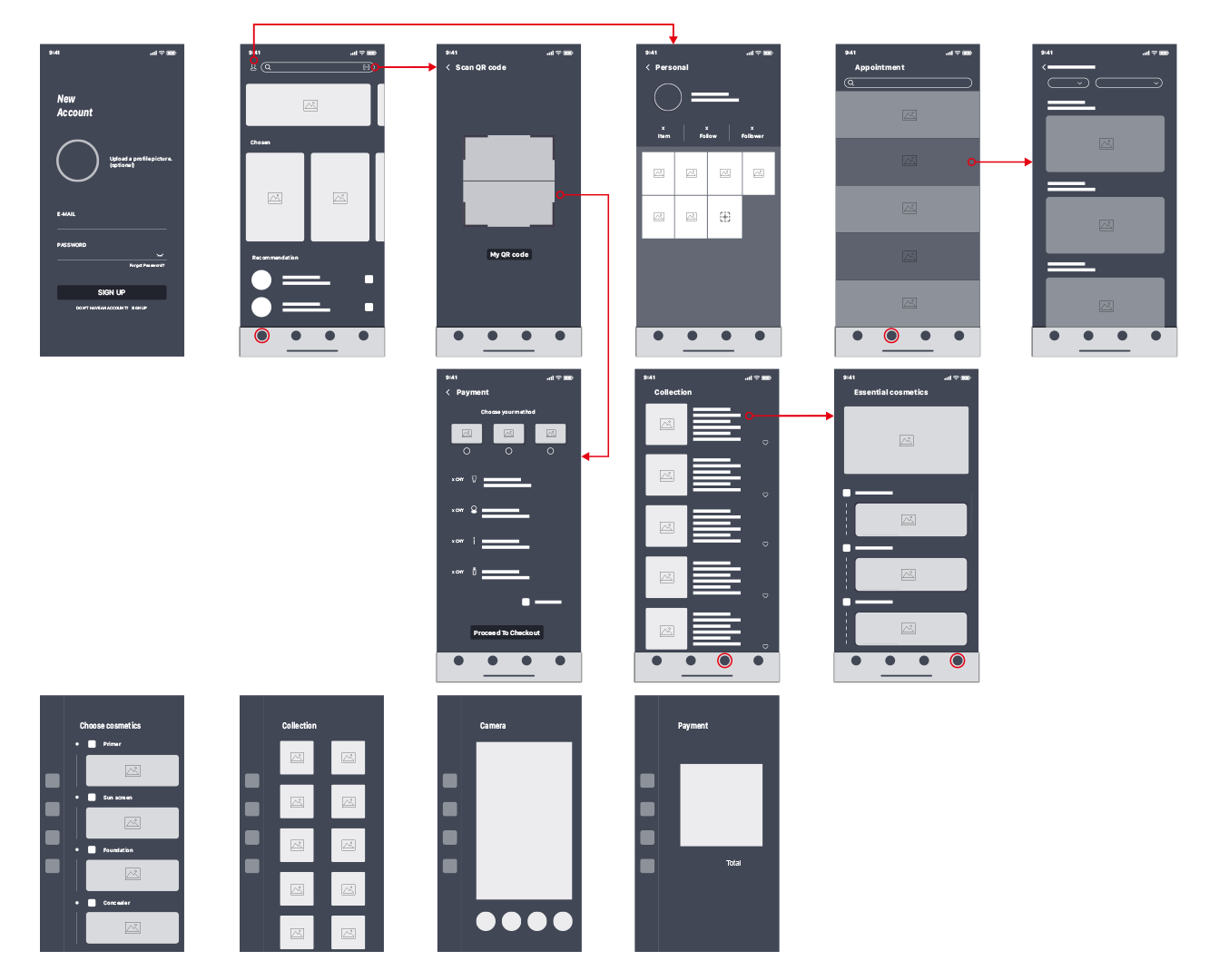 The following user interface designs were created for the mobile application client and for the interactive screens in the shared dressing room.